The apartment
---
I am speaking with a roommate in our shared living space. Hanging against my doorframe, I find myself on the boundary between my room and the shared hallway. In doing so, I am unconsciously not giving her access to "my" space, but I do enjoy interacting on the boundary between the shared hallway and my private space. The doorway makes it possible. Click goes in my head. The doorway first gives structure and then space for social flows.

'I'm going to make an apartment and I'm starting with The Doorpost,' I say to my teacher while discussing my graduate work. The Doorpost (2020, wood), The Corners (2020, metal) and The Wall (2020, brick, stucco, wood) make up the series The Apartment, with which I will graduate from St. Joost School of Art & Design in the visual arts department in the summer of 2020.

From then on, the focus of my practice will be on observing structures that give definition to the living environment and allow people to "be" somewhere. I investigate how man-made architectural structures relate to social structures. With my work, I hope to make people aware of many recurring structures in the living environment. I do this by making reconstructions and having them (re)discovered within an alienated context.


About Building
bouwskelet

The individual sculptures that make up The Apartment at that time need a building skeleton. Searching for a form, I come across Plattenbau, a highly systematic building method with its origins in post-war destroyed Germany. The political ideology behind this efficient method of construction was the short-term unfolding of a socialist ideal state. I find it intriguing and confrontational at the same time that a structure is used to impose an environment where different lives have to function in similar cubicles next to/below/above each other. The resulting work About building is a modular glass installation consisting of hundreds of building elements. The installation (which has never been fully constructed) can precisely hold its own weight; frictions or vibrations from outside could lead to its collapse. The work has an extremely organized and balanced appearance, physically it is in a fragile state at the same time.


Spatial sketch


De Hoeken
Sculpture
2020
20x1,2x210 cm
Metal
St. Joost School of Art & Design, Breda

This work stems from curiosity about the corners of a space. It is made in such a way that it is just stable enough to stand, when you put them down they dance for a while. The total of six frames presented in varying arrangements create the space of The Apartment. In 2021, this photograph became part of the publication of IS PAS D'ESPACE by Maud van der Beuken, Margot Zweers & Loek Grootjans in Park Tilburg.




De Deurpost
Sculpture
2020
85x7x231,5 cm
wood
Electron, Breda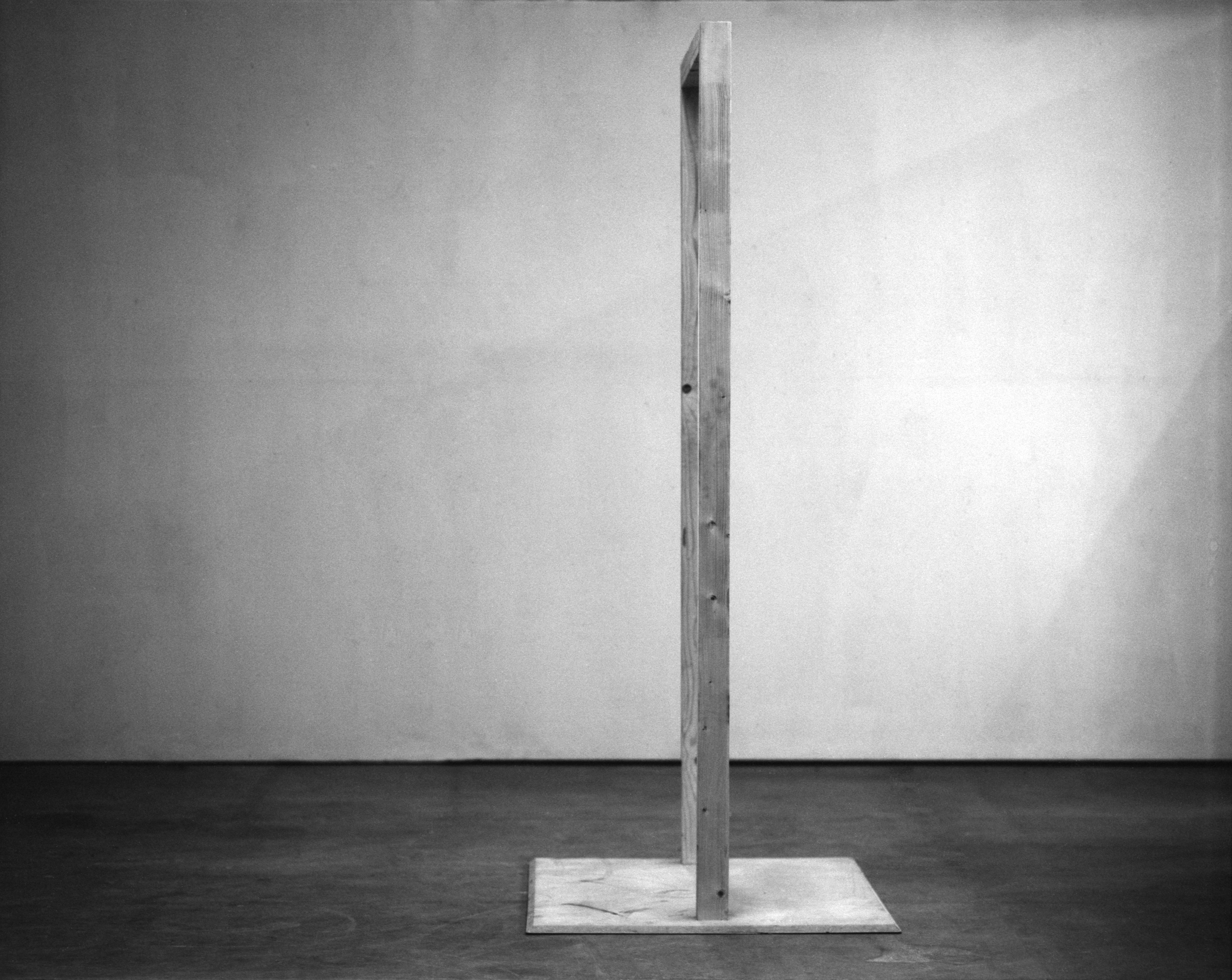 De Muur
Sculpture
2020
80x30x100
Basalt, stucco, wood
Electron, Breda

One push and you unbalance The Wall, the work represents a duality between grip and instability. Despite the heavy weight of the object, it is easy to move with a pump truck, however, this construction makes the wall unstable.




Drawings
multiple drawings
2020
105 x 148 mm
paper, pen, marker
Scan (studio image)